Avoid Interruption – Set Your Phone To Do Not Disturb
You can easily avoid interruption by setting your phone to do not disturb. This will send your calls directly to your voice-mail or play a busy tone without your phone ringing.
Log into your Account.
Select Switchboard.
Select Your Number.
Select Inbound.
Select Do Not Disturb.
Toggle "Do Not Disturb" to enable this setting.
Select activity time from the drop-down box.
Toggle "Play Busy Tone" - if not selected the caller will be diverted to voicemail.
Click Save settings to update.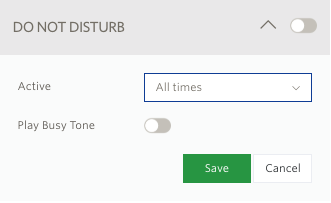 NOTE: Selecting Activity time for Do Not Disturb will enable this feature ONLY within the timeframe selected.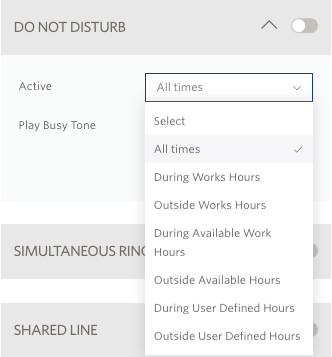 Related Articles

Yealink – Configuring your phone

Yealink's zero-touch provisioning enables customers and their VoIP service providers to automatically provision a handset. All you need to do is gather the handset's MAC address, from the underside of the handset (or box) or finally from the phone ...

Polycom VVX – Auto Provisioning your phone

Our "Device Provisioning" platform enables you to provision any Polycom phone from the VVX family. If you have purchased a handset with our provisioning URI installed go to Step 4 below. Step 1: The VVX family phones Web UI Log into the phones Web ...

How to set up Vai Fax mobile app

Setting up your fax line on the web portal The Vai Fax app allows you to send and receive faxes directly from your smartphone. You can upload documents, use your camera, and even create faxes straight from the app. You can register your Vai Fax, ...

Configuring an IP phone to our Business VoIP Service

We support two mechanisms of connecting to our service, Registration and secondly SIP Peering. If connecting via Registration your handset or phone system requires a UserName (the phone number) and Password to authenticate to our network. Account ...

Set Up Your Time Schedules

Most organizations shape the way they handle incoming calls to match their hours of operations. In your account you can define time schedules for; Simultaneous Ring, Call Forwarding, and Queuing by customizing one the following time schedule types: ...