The Principles enumerated in the Privacy Act shall be complied with in respect to the nature of the personal information collected. Please advise the B party caller that Call Recording has been enabled on this account.
Note: You can use manual records if you want. This Call Recording service is provided as best efforts and is not recommended for medical or emergency services.
Recording Options
Log into your account.
Select Switchboard.
Select the number you wish to set up call recording on.
Select Advanced.
Select Call Recording.
Select your desired settings using the drop down box "Call Recording".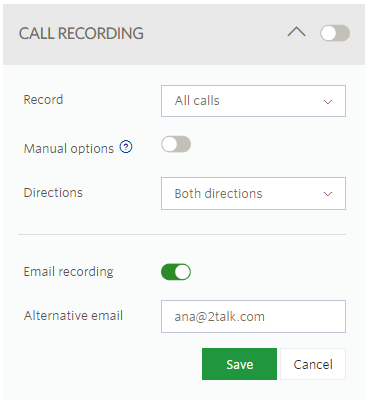 Record: Select which calls you want to record. You can select all or select calls. If you chose select calls you must insert the specific number to record.
Manual options: Allow this option if you set to record just specific calls or not set another call record option.
Directions: Select which direction to record calls – Record in both directions / Record only Outbound Calls / Record only Inbound Calls.
Email recording: Will send a copy to the email set on Personal Details.
Alternative email: Nominate an email address to send calls to – if different to the email in Personal Details.
Manual Record
Toggle "Manual options" and Email recording.
Note: To start/stop a new record press *1. Press #3 to pause and #4 to unpause while in call (only if manual recording has been turned on).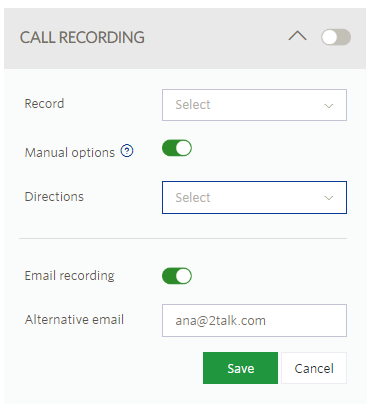 Listen and download your records.
Call Record itself is accessible via an HTTP post to a secure folder on our site. To access this folder, you will require a static IP (which we whitelist) and password from our support.
For more information send an email to support or contact us via phone.