Caller Tunes and Hold Music
Long wait times mean abandoned calls, lowered customer satisfaction and ultimately lost business. Setting up caller tunes and hold music creates a personable approach to your customer's call. Upload your own MP3 files to replace ringing when people call you and set up your own music on hold. There is no additional charge for this service, it is included.
Select Switchboard.
Select Advanced.
Caller Tunes & Hold Music.
Select options for caller tune sound and volume.
Click Save settings to update.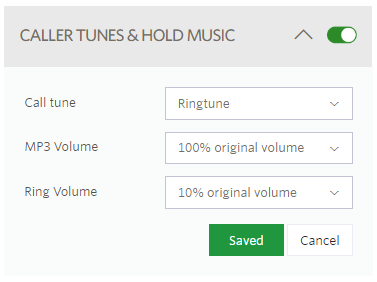 Related Articles

Caller ID and Call Rejection Options

This feature helps you identify your Inbound caller's CLI and set any call rejection options. Log into your Account Click Switchboard and select the number you want to use. Inbound. Toggle Caller ID & Rejections. Toggle the option(s) for caller ID ...

Caller Name Display

Using the caller name display you can present your user name when you dial another person. This is particularly handy when dialing other extensions within your organization. Setting up Caller Name Log into your account. Select Switchboard. Select the ...

Features and Functionality for your Account

All customers are licensed to use ALL these features (and more) regardless of which plan or bundle you select. Inbound Calls Simultaneous Ring / One number: Receive calls to up to five phones all ring simultaneously, or by a variety of business ...

Call Queuing

How about using an Auto Attendant to play your greeting, redirect to a Call Queue below on a single number. Log into your Account. Select Switchboard. Select Your Number. Select Inbound. Select Call Queuing. Select agents to be connected to call. ...

Bootcamp 2 - Manage Your Inbound Calls

In this second bootcamp, we're looking at how our service helps you manage your inbound calling with its CloudPBX features. Direct your call. Understand Auto Attendant. Call Flow Priority. Setting up Voicemail to email. Adding Media files. Direct ...