You can view, add and manage your VoIP numbers in your Account Settings. Firstly you will need to add numbers to your account or port your existing numbers over.
Every account needs numbers and channels. The number of channels on your account will determine how many calls you can make at any one given time. Refer to your Calling Plan to see how many channels your account has. And if you need more get in touch with your provider.
Note: Numbers can only be assigned to one device including handsets and soft phone. You cannot share one number over multiple devices.
Adding Numbers
Add a Single Number
Log into your Account.
Select Switchboard.
Click "Add Number"
Fill out all fields.
Click Add.
Note: You have the option of adding DIDs, vfax numbers as well as porting your existing numbers to your account.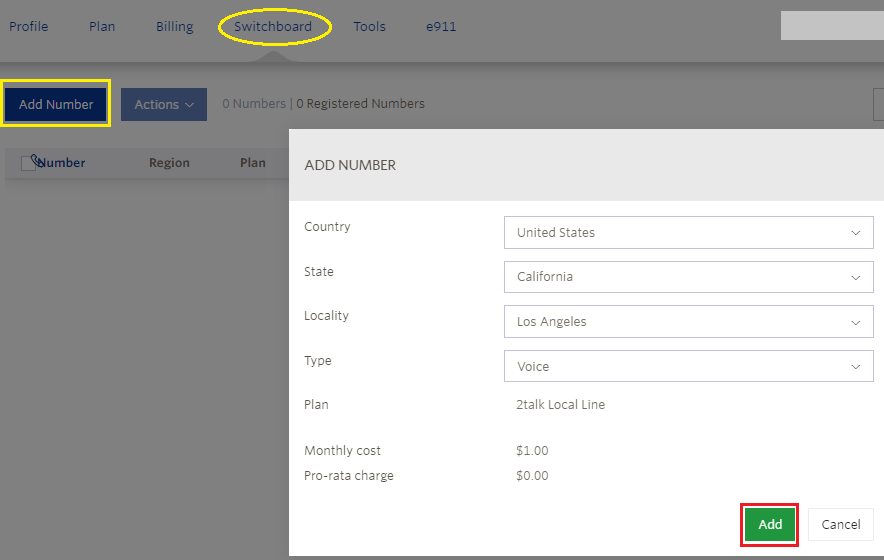 Add Number Ranges, Toll-Free, and Special Numbers
Email, or get in touch with us, or alternatively contact your provider.
Managing your numbers
Log into your Account.
Select Switchboard. On this screen, you are able to manage your numbers how you see fit. Click Actions to add features or settings to the selected numbers.
To cancel a number or multiple numbers, select those under your accounts Switchboard, click actions and cancel number(s). You will then be asked if you are sure you would like to remove the number(s).
Note: Think carefully about cancelling a number. Once you cancel a number it gets removed and quarantined for 6 months.