PIN Code for Restricting Calls
Most organizations have some rules about who can make calls to where. It may be that your warehouse team can only make local and national calls and your accounts team can call local, national, and international calls.
Log into your account.
Select Switchboard.
Select the number you want to Restrict Outbound Calls.
Select Outbound.

Select PIN Code
Set your preferences under the Call type drop-down box.
The options are all calls, toll-free only, international calls only, and expensive international calls only.
Create a PIN Code.
Click Save to update settings.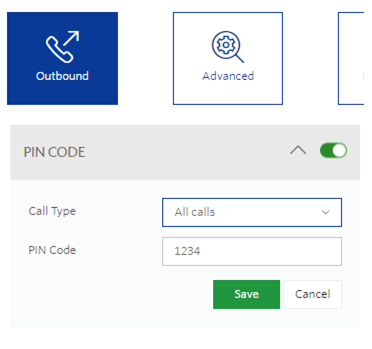 Related Articles

Bootcamp 3 - Manage Your Outbound Calls

In this third bootcamp we're looking at how our service helps you manage your outbound calling with its CloudPBX features. Set your Outbound Caller ID. Set up Speed Dial. Authorization PIN Code. Last Number Redial and Call Return. Set your Outbound ...

Bootcamp 2 - Manage Your Inbound Calls

In this second bootcamp, we're looking at how our service helps you manage your inbound calling with its CloudPBX features. Direct your call. Understand Auto Attendant. Call Flow Priority. Setting up Voicemail to email. Adding Media files. Direct ...

Conference Calls

When keeping your team connected the Conference Call feature can be useful. When setting up this feature you can personalize your conference calls. This makes it easy to be connected with staff and customers. The number of participants into your ...

Ghost Calls

SIPvicious SIPvicious was created as an inventory tool for IT Admins to manage SIP devices evolving to a scammer tool used to probe for PBX vulnerabilities. Thankfully SIPvicious and its annoying ghost calls are easily dealt with the strategies ...

Billing Records

There are 2 ways in which you can see your call data records and call history summary. Summary of calls To access Summary of Calls, just go to Billing > Summary of calls Here you'll be able to see the call records separated by service type, billing ...