Use Hunt Groups for Managing Inbound Calls
This service provides all users with a free and simple linear hunt group service. The service allows you to distribute phone calls from a single telephone number to a group of up to 10 phone lines. You can decide if you want the hunt group to be enabled at all times or on specific days and times (such as outside of work hours). The service also allows you to set how long to wait before moving to the next number in the hunt group and whether to follow normal call logic or send calls to voicemail on no answer from the Hunt Group lines.
Log into your Account.
Select your number.
Select Switchboard.
Select Inbound.
Select Hunt Group.
Select Hunt Group Active hours (eg. during work hours).
Set up your Hunt Group by adding a Number and "Hunt next in" time frame. You can have up to 10 numbers (1st to 10th) in a Hunt Group.
Click Save settings to update.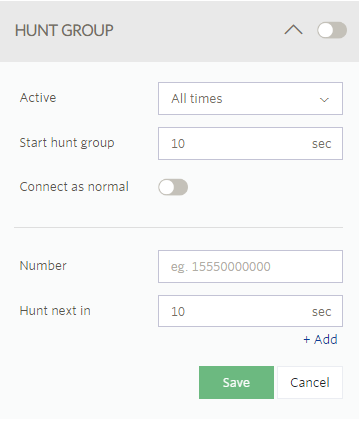 Note: These will always be tried in order 1-10, so ensure that you enter your Hunt Group numbers in the order of priority for answering calls. Each number can have its own timeout before moving on to the next number. The default is 10 seconds timeout for each number. If it is a number on your account, that number then is the number dialled directly, without following any 'features' on that line.
Related Articles

Bootcamp 2 - Manage Your Inbound Calls

In this second bootcamp, we're looking at how our service helps you manage your inbound calling with its CloudPBX features. Direct your call. Understand Auto Attendant. Call Flow Priority. Setting up Voicemail to email. Adding Media files. Direct ...

Call Forwarding and Inbound Trunking

Control your incoming call flow when you're away or busy with a permanent call forward. Use time schedules to give you more flexibility, for example, have your calls forwarded straight to your mobile during the day with an after-hours forward to your ...

Bootcamp 3 - Manage Your Outbound Calls

In this third bootcamp we're looking at how our service helps you manage your outbound calling with its CloudPBX features. Set your Outbound Caller ID. Set up Speed Dial. Authorization PIN Code. Last Number Redial and Call Return. Set your Outbound ...

Ghost Calls

SIPvicious SIPvicious was created as an inventory tool for IT Admins to manage SIP devices evolving to a scammer tool used to probe for PBX vulnerabilities. Thankfully SIPvicious and its annoying ghost calls are easily dealt with the strategies ...

Conference Calls

When keeping your team connected the Conference Call feature can be useful. When setting up this feature you can personalize your conference calls. This makes it easy to be connected with staff and customers. The number of participants into your ...